Protection and Fault Codes;
| Error Code | Meaning |
| --- | --- |
| E0 | Indoor/outdoor communication fault |
| EC | Outdoor communication fault |
| E1 | Room temperature sensor (IRT) |
| E2 | Indoor pipe (coil) temperature sensor (IPT) |
| E3 | Outdoor pipe (coil) temperature sensor (OPT) |
| E4 | System abnormal |
| E5 | Model configuration wrong |
| E6 | Indoor fan motor fault |
| E7 | Outdoor temperature sensor |
| E8 | Exhaust temperature sensor |
| E9 | Intelligent power module of drive and module fault |
| EF | Outdoor fan motor fault (DC Motor) |
| EA | Current sensor fault |
| EE | EEPROM fault |
| EP | Temperature switch fault (on top of the compressor) |
| EU | Voltage sensor fault |
| EH | Intake temperature sensor |
| P1 | Overvoltage / undervoltage protection |
| P2 | Overcurrent protection |
| P4 | Exhaust overtemperature protection |
| P5 | Subcooling protection under cooling mode |
| P6 | Overheating protection under cooling mode |
| P7 | Overheating protection under heating mode |
| P8 | Outdoor overtemperature / undertemperature protection |
| P9 | Drive protection (software control ) |
| P0 | Module protection (hardware control) |
Protection and Failure Display;
When protection display is available, controller will show error code, digital LED shows error code and setting temperature by turns.
If there is more than one failure, it will show at first that in front of the error list.
Protection display function can be selected in hardware, and the default don't display;
To insure of in and out communist is credibility, the failures relate to outdoor unit will remain failure state for 2 minutes max after recovered.
In all failures, only sensor failures don't have to repower to cancel.
Error list;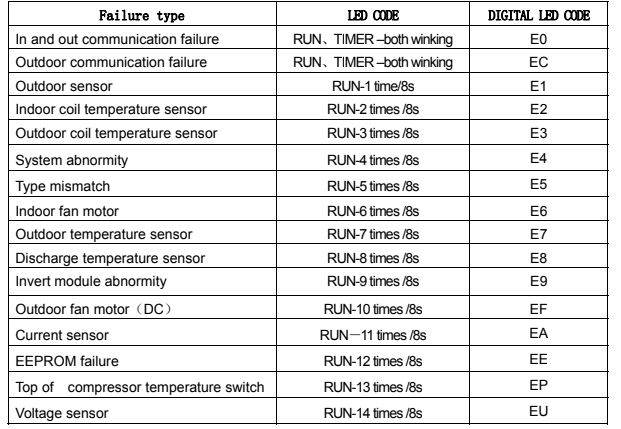 Protection display code list: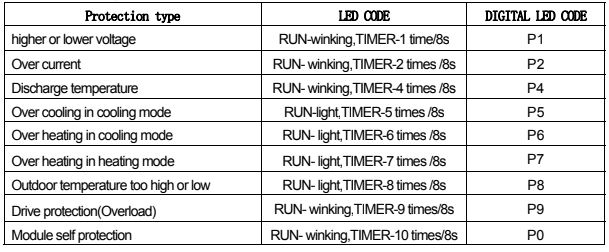 Outdoor failure display;
There is a LED on outdoor power board, when compressor is running; it is normally light; when no feedback of signal to power board from compressor, it will wink by lighting 1s and going out 1s. If failures happened, it will light 0.5s, go out 0.5s, winking several times and go out 3s for a cycle to indicate failures.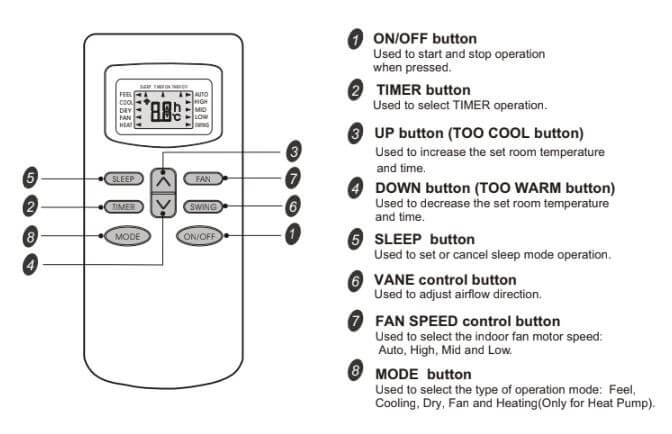 The failure list is the follow:
Wink time/Failure
1: IPM protection
2: higher or lower voltage
3: Over current
4: Discharge temperature too high
5: Outdoor coil temperature too high
6: Drive abnormity
7: Communication abnormity with indoor unit
8: Compressor over heat(switch on top of compressor)
9: Outdoor air temperature sensor failure
10: Outdoor coil temperature sensor failure
11: Outdoor discharge pipe temperature sensor failure
12: Voltage sensor failure
13: Current sensor failure
14: IPM abnormity
15: Outdoor communication abnormity
16: DC fan motor no feedback
17: defrosting