| Error Code | Meaning |
| --- | --- |
| S01 | Room temperature sensor failure |
| S02 | Indoor heat exchanger sensor failure |
| S03 | Humidity sensor failure |
| S04 | Compressor temperature sensor failure |
| S05 | Outdoor heat exchanger sensor failure |
| S06 | Outdoor air temperature sensor failure |
| S07 | Outdoor electrical current detection faillure |
| E01 | lndoor/outdoor communications failure |
| E02 | HIC circuit failure |
| | |
| | Power Tr (transistor) circuit failure |
| E03 | Outdoor unit external ROM (OTP data) failure |
| E04 | Peak current cut Off |
| E05 | PAM circuit failure |
| | |
| | Active circuit failure |
| E06 | Compressor discharge overheat prevention activated |
| E07 | Indoor fan operating failure |
| E08 | 4-way valve switching failure |
| | |
| | Indoor zero-cross failure |
| E09 | No-reirigerant protection |
| E10 | DC compressor drive circuit failure |
| E11 | Outdoor fan operating failure |
| E12 | Outdoor system communications failure |
| | |
| | OLR operation |
| | |
| | Outdoor power supply open phase |
| | |
| | Outdoor coil freezing |
| E13 | Freeze-prevention operation activated |
Sanyo Air Conditioner Troubleshooting
If your air conditioner does not work properly, first check the following points before requesting service. If it still does not work properly, contact your dealer or service center.
1-Trouble

Air conditioner does not run at all.
Possible Cause
1. Power failure.
2. Leakage breaker tripped.
3. Line voltage is too low.
4. ON/OFF operation button is OFF.
5. Batteries in remote control unit have run down.
Remedy
1. Restore power.
2. Contact service center.
3. Consult with electrician or dealer.
4. Press the button again.
5. Replace batteries.
2-Trouble
Compressor runs but soon stops
Possible Cause
1. Obstruction in front of condenser coil.
Remedy
1. Remove obstruction.
3-Trouble
Poor cooling performance.
Possible Cause
1. Dirty or clogged air filter.
2. Heat source (cooker, heater, or electrical appliance) or many people in room.
3. Doors and/or windows are open.
4. Obstacle near air intake or air discharge port.



5. Thermostat is set too high.
Remedy
1. Clean the air filter to improve the air flow.
2. Eliminate heat source if possible.
3. Shut them to keep the heat out.
4. Remove it to ensure good air flow.
5. Set the temperature lower.
4-Trouble
OPERATION lamp blinks and air conditioner does not operate.
Possible Cause
Trouble in system.
Remedy
Contact service center.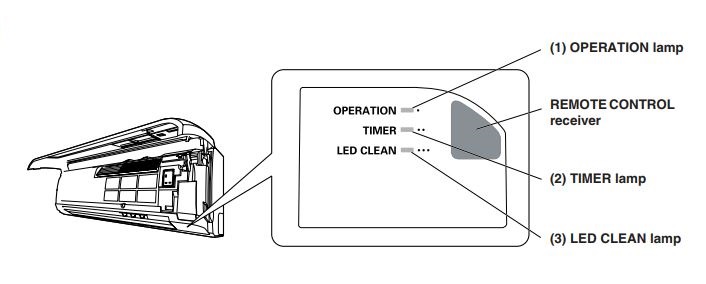 5-Trouble
Clicking sound is heard from the air conditioner.
Possible Cause
In heating or cooling operation, any plastic parts may expand or shrink due to a sudden temperature change. In this event, a clicking sound may occur.
Remedy
This is normal, and the sound will soon disappear.
6-Trouble
OPERATION lamp lights but outdoor unit will not run.
Possible Cause
The use of cellular phones near the air conditioner may cause disturbance to its normal operation.