| Display Codes | Diagnostic Description |
| --- | --- |
| 0- Standby | No command for unit operation |
| c - First Stage Cooling | Unit has received a command for first stage cooling |
| c Flashing | Anti-short cycle timer (3 minutes) or Minimum run timer (30 seconds) active |
| C - Second Stage Cooling | Unit has received a command for second stage cooling |
| C Flashing | Anti-short cycle timer (3 minutes) or Minimum run timer (30 seconds) active |
| h - First Stage Heat Pump | Unit has received a command for first stage heat pump |
| h Flashing | Anti-short cycle timer (3 minutes) or Minimum run timer (30 seconds) action |
| H - Second Stage Heat Pum | Unit has received a command for second stage heat pump |
| H Flashing | Anti-short cycle timer (3 minutes) or Minimum run timer (30 seconds) active |
| d - Defrost Active | The unit is undergoing a defrost cycle |
| t - Test Mod | Test Mod |
| P - Protector Trip | A command for compressor operation is present but no current is measured to the compressor |
| 01 - Long Run Time (Compressor) | The compressor has continuously run for more than 18 hours in the cooling mode. |
| 02 - High Pressure | Compressor limit has opened four (4) times within a call for operation |
Rheem AC ICC Diagnostic Codes
Descriptions of the ICC diagnostic codes are provided below: NOTE: Codes must be read from correct side to avoid an error in reading codes.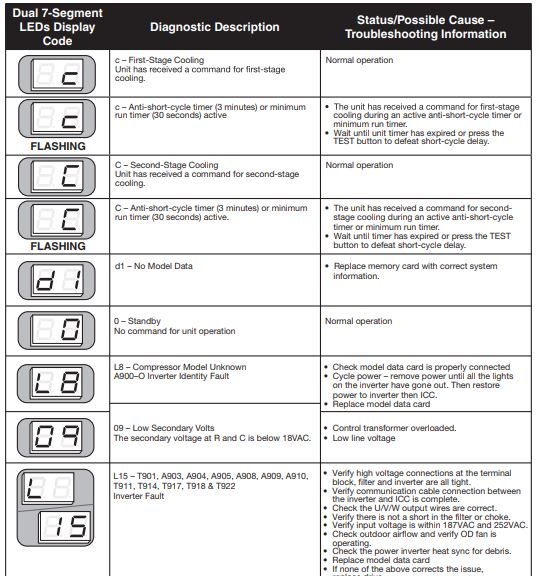 Electrical Checks Flowchart


Thermostat Call For Cooling, No Cooling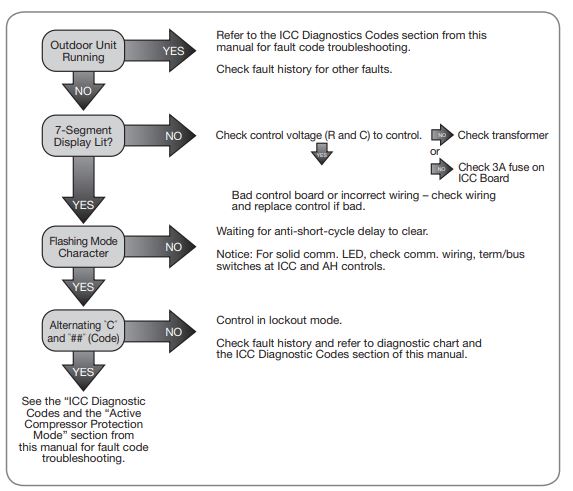 Troubleshooting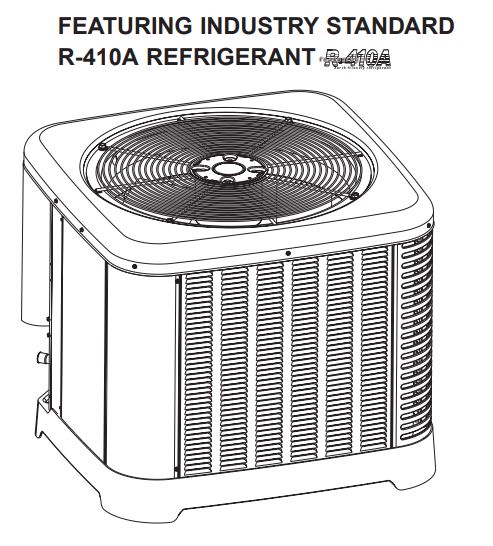 Disconnect all power to unit before servicing. Contactor may break only one side. Failure to shut off power can cause electrical shock resulting in personal injury or death.
SYMPTOM: Unit will not run
POSSIBLE CAUSE:
Power off or loose electrical connection
Thermostat out of calibration – set too high
Defective control board
Blown fuses/tripped breaker
Transformer defective
High-pressure control open/Low-pressure control open
Miswiring of communications
REMEDY:
Check for correct voltage at line voltage connections in condensing unit.
Reset.
Check control board diagnostic codes.
Replace fuses/reset breaker.
Check wiring. Replace transformer.
Reset. Also see high head pressure remedy. The highpressure control opens at 610 PSIG.
Check communication wiring
SYMPTOM: Outdoor fan runs, compressor doesn't
POSSIBLE CAUSE:
Run or start capacitor defective
Contactor defective
Loose connection
Compressor stuck, grounded or open motor winding, open internal overload.
Low-voltage condition
REMEDY:
Replace.
Replace.
Check for correct voltage at compressor. Check and tighten all connections.
Wait at least 3 hours for overload to reset. If still open, replace the compressor.
Add start kit components.