Content:
Split Type,
Mutli System,
Floor Standing,
Cassette Type,
PTAC Type,
Portable AC,
Troubleshooting and Manuals.
If there is a fault on any LG Universal Unit, a two digit number will appear on the remote controllers led display. If the unit does not have a remote controller the fault will be displayed using the LED's on the front of the indoor unit.
The "Units" digit of the fault code is shown by the power led which has the following symbol by it. This is usually Red, but on a few models it is Green.
The "Tens" digit will be displayed by one other led, usually the "Sleep" or "Filter" lamp.


Error Indicator:
The function provides self-diagnosis and displays an error code if there is any trouble.
Error codes are displayed on the Indoor unit's Wired Remote as CH**, and/or Fascia Display. In addition, the code is indicated via LED's on the outdoor unit control board.
If more than two troubles occur simultaneously, the lower number of error code is displayed first.
After an error occurs, if error is released, error LED is also released simultaneously.
1.LG Split Type AC Error Codes
Indoor Unit Faults:
| Error Codes | Trouble |
| --- | --- |
| C1 or CH1 | Indoor temperature sensor open or closed circuit. |
| C2 or CH2 | Outdoor temperature sensor open or closed circuit. |
| C4 or CH4 | Heat sink temperature sensor open or closed circuit. |
| C5 or CH5 | Communication between indoor and outdoor units. |
| C6 or CH6 | Excessive current at inverter DC power circuit. |
| C7 or CH7 | Excessive compressor current |
| C8 or CH8 | Indoor fan not rotating. |
| C9 or CH9 | Outdoor fan not rotating. |
| CA | Discharge temp more than130 °C 2. Faulty discharge thermistor |
| CC | EEPROM error |
| CD | Inverter module error |
| Po | System in Power Mode – not a fault |
| Lo | System in test mode – not a fault |
2.LG Multi Type AC Error Codes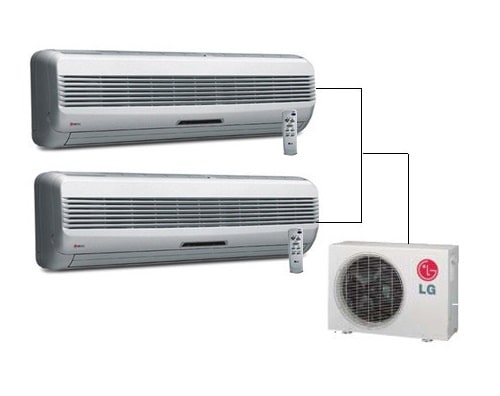 Error Code = 01
Contents = Air sensor (open/short)
Case Of Error = Open / Short circuit
Indoor Status = Off
Error Code = 02
Contents = Inlet pipe sensor
Case Of Error = Open / Short circuit
Indoor Status = Off
Error Code = 03
Contents = Communication(Indoor Wired R/Control)
Case Of Error = Communication Poorly
Indoor Status = Off
Error Code = 04
Contents = Drain pump / Float switch
Case Of Error = Float switch Open circuit (High level water alarm)
Indoor Status = Off
Error Code = 05
Contents = Communication(Indoor Outdoor)
Case Of Error = Communication Poorly
Indoor Status = Off
Error Code = 06
Contents = Outlet pipe sensor
Case Of Error = Open / Short circuit
Indoor Status = Off
Error Code = 07
Contents = Different operation mode
Case Of Error = Indoor units set in different operation modes
Indoor Status = Off
Error Code = HL
Contents = High Limit (Float Switch)
Case Of Error = Same as code 04, Float switch Open circuit
Indoor Status = Off
Error Code = CL
Contents = Child Lock Function selected
Case Of Error = Not an error, press Timer & Min buttons simultaneously for 3 seconds to toggle On/Off
Indoor Status = On