| Error Codes | Problem |
| --- | --- |
| EE | Loading EEPROM Malfunction |
| E2 | Anti-Freeze Protection |
| E3 | Refrigeration System Blocked/Gas Leak |
| E4 | Compressor High Temp Protection |
| E5 | AC-Over Current Protection |
| E6 | Communications Fault |
| E8 | Anti-High Temperature Protection |
| F1 | Sensor, Room Temperature (Indoor) |
| F2 | Sensor, Tube Temperature (Indoor) |
| F3 | Sensor, Ambient (Outdoor) |
| F4 | Sensor, Coil (Outdoor) |
| F5 | Sensor, Compressor Discharge (Outdoor) |
| F6 | Anti-High Temperature Protection |
| FH | Anti-Freeze Limit, Frequency Drop |
| H1 | Defrosting. It is normal. The unit is in defrosting mode and heating will recommence soon. |
| H3 | Compressor Overload Protection |
| H5 | IPM Protection |
| H6 | Fan Stall, Indoor Unit |
| HC | PFC Protection |
Outdoor Error CodeMalfunction Code Table of Outdoor Unit
E2: Freeze Protection
H5: IPM protection
E5: Overcurrent protection

EE: EEPROM reading and writing malfunction
PL: Low voltage protection
PH: High voltage protection
HC: PFC overcurrent protection
LP: Mismatching of models of indoor and outdoor units
F3: Malfunction of outdoor ambient temperature sensor
F4: Malfunction of outdoor pipe temperature sensor
F5: Malfunction of outdoor discharge temperature sensor
E6: Communication malfunction
E3: Low pressure protection(refrigerant leak)
U7: Abnormality of 4-way valve

E8: Over-load protection
E4: Discharge temperature protection
H3: Overload protection
L9: Over power protection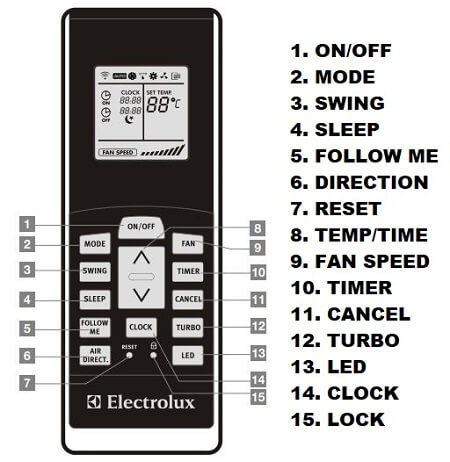 Troubleshooting

The air conditioner is not user serviceable. Incorrect repair may cause electric shock or fire, so please contact an authorised service center for professional repair. The following checks prior to contact may save you time and money.
Problem: The unit does not operate
Cause: The unit does not work properly when you switch on again and again .This is to protect the unit. You should wait about 3 minutes.
Problem: Bad Smell Emitted.
Cause:
Some odours may be emitted from the indoor unit. This is the result of room smells (such as furniture,tobacco,etc.) which have been taken into the air conditioner.
Consult authorised service centre for cleaning if the odours persist.
Problem: "Water flowing" noise
Cause: The swishing noise like water flowing is the refrigerant flowing inside the unit.
Problem: Mist is emitted in COOL mode
Cause: During cooling operation, a thin mist may be seen emitted from the indoor unit due to high room temperature and humidity. After a period of time, the mist will disappear as the decrease of room temperature and humidity decreases.
Problem: Cracking noise
Cause: This is the sound of friction caused by expansion and/or contraction of panel or other parts due to the change of temperature.
After All Try This Error Codes If You Not Solve Your Problem Properly Then Contact Us Maybe We Guide You Better And You Can Also Subscribe Us on Official Youtube Channel And Watch Videos Realted R/Ac.